As part of the extended 3D Creator family, we are pleased to offer PlyMatch.
In the manufacture of composite structural components by manual lay-up,
accuracy in ply placement as well as quality assurance regarding the correct ply orientation and sequence are critical.
PlyMatch addresses these issues and offers the most flexible solution for accurate ply placement.
PlyMatch has been adopted by users in aerospace and motorsports.
With PlyMatch the composites manufacturing workshop operator works looking at a computer monitor where two images are superimposed:
the actual image of the component under construction and ply material as viewed by a camera, as well as a 3D CAD drawing of the next ply to be placed, drawn correctly in place.
The operator simply needs to place the next ply to match the CAD image as shown on screen.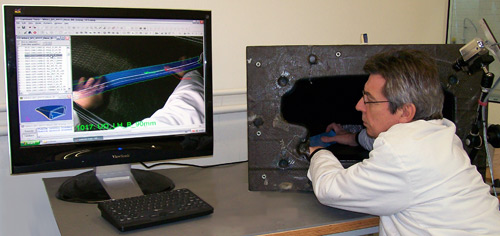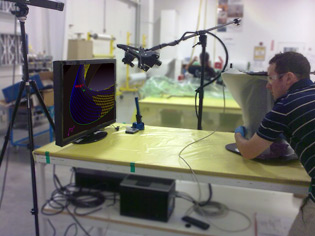 Flexibility
Both the mould being worked on and the camera can be moved at all times without a need for recalibration. This allows full view and access to place plies for highly curved parts and/or inside cavities.PlyMatch overcomes the limitations of any other ply placement methods.
Compatibility with various software
Although the 3D data for the plies can be generated by any CAD system, or by Laminate Tools for better functionality by including more information such a fibre orientation and application point.
Versatility
PlyMatch can be used for templating and purely as a wireless CMM.
PlyMatch can also be used for monitoring automated ply placement.
Quality assurance
PlyMatch can record the assembly procedure and allow verification that the part has been assembled according to specifications- placement, fibre orientation and sequence.

Download printable
Download for prospects (pdf)